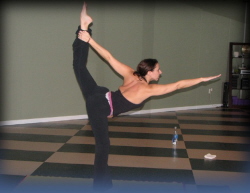 Do you find you run out of energy in the afternoon or evening? For most of us, once we get home from work, our day really needs to kick into gear, yet this is when we find that we are running out of steam.

Rather than an afternoon cup of coffee, there is another way to boost your energy. Exercise actually gives you more energy. It has been proven that regular exercise increase your energy level, decreases stress, and improves your overall attitude.

But perhaps you are not in the mood for a full-blown group exercise class. There is another option. Yoga.

Yoga is also restorative. A study found that people who followed an eight-week yoga and meditation program had a significant increase in daily energy. And women who regularly practiced Hatha yoga had 41% less of a stress causing compound in their blood than those who did not. In yoga, for every a single pose you bring freshly oxygenated blood to your organs because of the type of deep breathing that's incorporated into the practice.

If you are interested in trying yoga and reaping its benefits, contact Answer is Fitness.
Comments (0)
|
Trackbacks (0)
|
Permalink
|
|