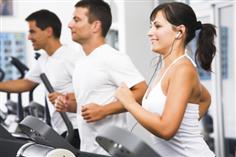 If you are wondering the best, fastest and most fun way to lose that holiday weight, the answer is interval training. Usually cardio workouts make people automatically assume a boring workout on the treadmill for 40 minutes.

But that is not what we mean when we say "cardio" at Answer is Fitness. The best and most effective cardio workout is interval training. This is a very effective way to burn calories and lose weight.

What is interval training? Instead of exercising at a low intensity level for a long period of time, interval training has you exercising at a high intensity with resting periods of low intensity interspersed.

With the high intensity workout, you can burn more calories in less time. High intensity workouts also do more to raise your metabolism after you are done exercising. This means you burn more calories when your workout is through.

Essentially, interval training has three parts: exercise time, recovery time and number of repetitions. All 3 parts are fixed throughout the workout.

A personal trainer can give you assistance in designing an interval workout, contact us.
Comments (0)
|
Trackbacks (0)
|
Permalink
|
|