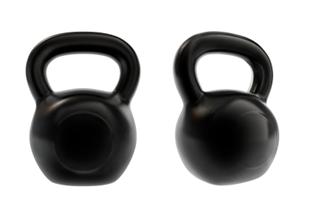 What are those weird-looking weights with handles? They are kettlebells and they are worth meeting on a weekly basis. It has recently been discovered that people who did an intense 20-minute workout with kettlebells burned, an average of 400 calories, or 20 calories a minute. If you need help with the math, that is like running a six-minute mile. Most likely, this is because kettlebell workouts combine cardio and strength training and use several muscle groups at once.

Using a kettlebell burns 70 percent more calories than a typical strength routine. There certainly is a lot of strange looking exercise equipment, but kettlebells you've gotta try. A 20-minute kettlebell workout is worth about an hour on the treadmill! They sculpt every part of your body. Most exercises with them involve swinging the kettlebell up or across the body. All of the weight is below the handle, so your core has to work hard to counteract the momentum. So as a result you will lose inches and while getting stronger and leaner.

If you want to learn how to use kettlebells, work with a personal trainer who can help you design a workout to achieve the goals you want, in a realistic time frame. A trainer at Answer is Fitness can help you get a feel for using kettlebells and burn about 400 calories while you can sculpt your entire body with a fun and different routine.
Comments (0)
|
Trackbacks (0)
|
Permalink
|
|