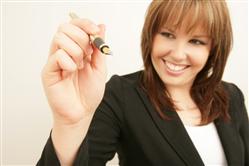 Weight Loss and healthy habits are hard enough, but when you are a busy business person and always on the go, making healthy decisions and finding the time to exercise can be even more difficult. As business people, it's easy to forget that you have to take care of yourself too. Leading a healthy lifestyle will benefit both you and your business in the long run, healthy people tend to be happier and more productive.

1) When traveling pick a hotel that has a gym, but if that's not possible buy a guest pass at a local gym for a nominal fee. Also, travel with resistance tubing. It's cheap, light weight with it you can get a thorough full body workout even in the smallest hotel room.

2) If you have the means, consider a healthy meal-delivery program. This takes all the guesswork out of weight loss and weight management. A great, fresh, gourmet, low calorie, meal can get you through the busiest days and the craziest schedules without gaining weight.

3) Sleep. Find a way to get more sleep. Sleep will not only help you trim down your waistline but it will enhance your overall health exponentially. Schedule in sleep hours like you would schedule important meetings. Do not compromise sleep. 7-8 hours a night is ideal. You'll feel better and perform better at work.

4) Creating time for exercise with your busy schedule is crucial to maintain a healthy body and a sharp mind. Try to block out a minimum of four 30 – 60 (minute) exercise sessions a week. One session on the weekend, one session in on the lunch hour, one in the morning before work, and one in early evening after work often works best for busy people.

5) Multitask. Although this is not ideal, I have been guilty of it many times and for busy people it can be a necessary evil.
Carry on business conversations while you're climbing stairs on the StairMaster.
Answer e-mails while peddling away on the bike.
Read or dictate business proposals and briefs while you're busting it on the treadmill.
6) Motivation. Often with ambitious business people, fitness can fall by the wayside. Keep your physical health a top priority by writing down all the benefits fitness will provide in all facets of your life. Whatever your reasons, post them around your home and office then refer to them when you feel like skipping out on your workout.

7) Business lunches and dinners can hurt your weight-loss/weight-management routine. Here are a few strategies to help get you through:
Pick a healthier restaurant so, at the very least, you'll have low-calorie options.
Schedule business dinners earlier in the day to avoid consuming high-calorie meals right before bedtime. In addition, earlier meals mean no cocktails which will save calories.
8) Educate yourself on calorie counting and label reading so you can make informed choices that effect powerful results and positive change.


Forbes Magazine
Comments (0)
|
Trackbacks (0)
|
Permalink
|
|