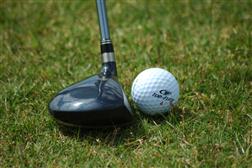 Welcome golf season. Have you been trying to improve your game? You can, through Pilates. Pilates and golf are a natural blend. You can train all of the muscles required for golf through Pilates.

Golf can put significant strain on your body and mind. Through a Pilates exercise program golfers will be able to hit the ball farther and straighter consistently, and you will reduce your risk of injury and back pain. Pilates is better than traditional fitness programs for golf. It is the perfect way to get ready to improve your golf game.

You are probably wondering why Pilates is great for golf?

Pilates for golf corrects the body's imbalances, by working the core of the body: the abdominals, obliques, lats and glutes. You will learn to stabilize your core to allow for maximum range of motion and support. Pilates creates healthy posture, and you will strengthen the muscles that support your posture resulting in a significant improvement in your golf swing. Pilates requires all that you need in golf: control, concentration, mind-body awareness, flowing movement and precision.

To learn more about how Pilates can raise your golf game, contact Answer is Fitness.
Comments (0)
|
Trackbacks (0)
|
Permalink
|
|