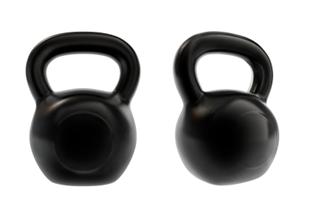 If you are looking for a fun and different type of exercise to help you lose weight, look at learning kettlebells. As you know by now, building muscle is the best way to lose weight. But cardio is essential to your health.

Kettlebell workouts combine aerobic and anaerobic exercise that help you lose weight faster than cardio or weights alone. In fact, a 20-minute kettlebell workout is worth about an hour on the treadmill!

The kettlebell is used to perform ballistic exercises. Ballistic exercises are a combination of cardiovascular, strength and flexibility exercises. Kettlebell workouts use several muscle groups at once.

In order to lose weight, most personal trainers recommend interval training. Kettlebell exercises are more aerobic and similar to high-intensity interval training. This makes kettlebells perfect for weight loss.

In one study, people who worked out with kettlebells for 20 minute burned an average, 13.6 calories/minute aerobically and 6.6 calories/minute anaerobically during the entire workout. This is equivalent to running a 6-minute mile.

For more information on working out with Kettlebells, contact Answer is Fitness.
Comments (0)
|
Trackbacks (0)
|
Permalink
|
|