Through the winter it is hard to remain focused on eating healthy, exercising, and losing weight. By the time March rolls around, many people feel like they have tons of weight to lose.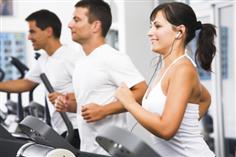 Here are a couple of ideas on how to stay focused and stay motivated for weight loss so you can be ready for the warmer weather in a couple of months.

Make a commitment to a charity – When you join an athletic fund raising event, you have no choice. Get yourself on a Relay for Life team or some other walk for a benefit. You are not going to let down those who sponsored you and you'll burn calories while preparing.

Lift the amount of weight you have lost – Using free weights, work out with the same amount of weight you have dropped. This makes it easy to remember how much you have lost. It is motivating to see how much you are struggling to lift that 10-pound weight. You can't possibly forget how far you've come when you're sweating doing three sets. You used to be carrying around that weight!

Make a great play list -A recent study on women's fitness found that women are more likely to stick to an exercise program if they listen to music while working out.

Do not wear baggy, loose clothes – Don't make yourself comfortable in your gained weight. Put on the tight jeans, or leave out your bathing suit. Give yourself a visual reminder of the goal you want to accomplish.

Work out with others- Many studies have proven that support from other people can keep you motivated to lose weight. So get some friends to work out with you. Get yourself a personal trainer, who can help you, create an exercise program for you, keep you company, and keep you accountable.

Group exercise classes - Join a group exercise class and make friends with the other regulars. Seeing them will inspire you to attend even when you feel like not going. Guilt is motivating. When you don't go to your exercise class, everyone knows.


Comments (0)
|
Trackbacks (0)
|
Permalink
|
|