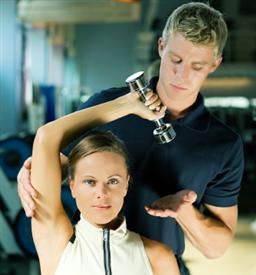 With specific and realistic fitness goals, you can strategically define your fitness plan so it is infused with small, attainable goals that keep you motivated. The same goes with overall fitness and personal training. A fitness program with a personal trainer gives you a great fitness routine to focus on that is designed with your fitness level in mind and is created to meet your needs.
Personal training to meet your fitness goals and keep your New Year resolutions puts you at an advantage. It is difficult to motivate yourself to continue performing your full body workout if you do not recognize and remind yourself of the benefits. No matter how tempting it is to put off diet and exercise, you must make time to exercise on a regular basis, if you want lose weight, reduce stress, stay in shape, maintain a healthy lifestyle, and improve your energy levels.
Personal trainers in North Attleboro, MA see to it that you are doing the right workout routines for your goals, fitness level, and body type. You will be taught new and better training techniques that will help you accomplish your fitness goals. Additionally, having a personal trainer will keep you from suffering injuries and other possible risks while you remain motivated.
To find out more on how to keep your mind positive and your body active, contact Answer is Fitness.