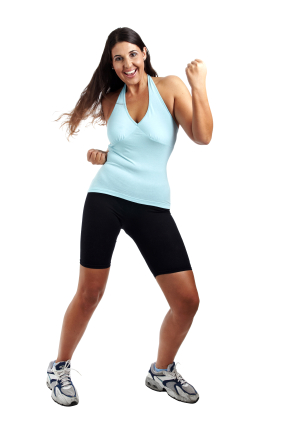 Most people know what they need to do in order to lose weight. Eat less and exercise more. Believe it or not, diet is often the least challenging part of the equation for many. The issue comes down to finding an exercise that you like to do and that you want to squeeze into your busy schedule.

When we hear, "I just don't have time to exercise", let's face it, if you loved it, you would find the time. Zumba is that exercise. Inspired from Latin Dance, the word "Zumba" comes from a Colombian word that means to move fast and have fun.

Zumba is a high energy, cardio group exercise program that allows you to have fun while dancing while raising your heart beat, allowing you to burn calories. It is an optimal fitness choice, mixing cardio intervals with resistance training. An interval program with a resistance and cardio combination maximizes calories burned, fat burning, and toning.

The best part about Zumba is that it is fun with easy-to-follow dance steps. A dance party with great music and uninhibited movement, it is so easy to do that you will want to squeeze it into your busy lifestyle. People forget they are working out during a Zumba class, the perfect choice for weight loss.


Lose weight with Zumba. Effective body sculpting movements allows you to exercise longer, and burn more calories. Contact Answer is Fitness for the schedule of Zumba classes near you.
Comments (0)
|
Trackbacks (0)
|
Permalink
|
|