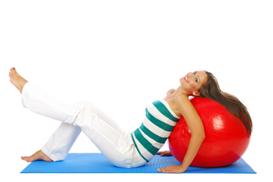 As women age, their metabolism rate drops, just like men. Staying in shape makes women feel better about themselves, giving them an extra dose of confidence. That is why the search is now on for the best women's fitness program. Here are a few other reasons why women should stay in shape:
For mind and body
Regular exercise combined with the proper diet, keep both the mind and body in shape. More and more women tend achieve better focus after they exercise. When you focus on fitness you feel good about your body, and your feel happier and healthier. So get up and keep both your mind and body moving!
Mood Booster
Exercise is a perfect mood booster. Aside from it being an efficient way to jump start your day, it also helps you get through a busy day. So say goodbye to stress and depression and start working out!
Better Health, Better You
Another plus is that better health through women's fitness programs provides a positive outlook in life. Being fit lets you feel good. Women gain more confidence when they joined fitness classes programmed especially for them.
Accomplish More, Worry Less
When you exercise you will have more energy to get more work done in a day because it makes you gain more energy. Women who make time to work out become far more productive at work. So for career women and for those women who sit too many hours in a day, women's fitness programs are designed to help lower blood pressure, reduce risks of cancer and diabetes, and lower body fat.
For more information on women's fitness, contact Answer is Fitness.
Comments (0)
|
Trackbacks (0)
|
Permalink
|
|