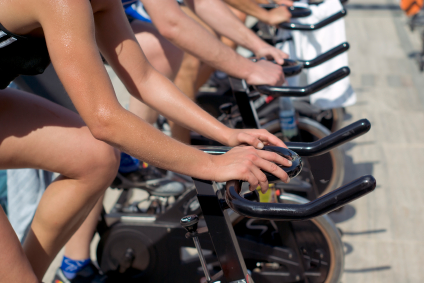 Regardless of your fitness level, joining a spinning class in Foxboro, MA is a great way to burn major calories. But just like any other rigorous workout routine, you must have an excellent trainer to guide and motivate you throughout the whole program instead of hopping immediately on a bike unprepared.
A group cycling workout in Foxboro is led by a licensed instructor to help any beginner workout like a pro. You can slow or sit down if you need to as you develop your stamina, but your instructor will push you as hard as possible to help you burn the calories and improve your cardiovascular health. If you want to get faster and better fitness results in your cycling class, it is important that you can trust to your instructor.
In a spinning class, the high-intensity exercise involves peddling on a stationary bike while resistance is being added or taken away. With heart pounding music and an enthusiastic class, group cycling is one of the most fun group exercise classes around.
For more details about group cycling class, contact Answer is Fitness.
Comments (0)
|
Trackbacks (0)
|
Permalink
|
|