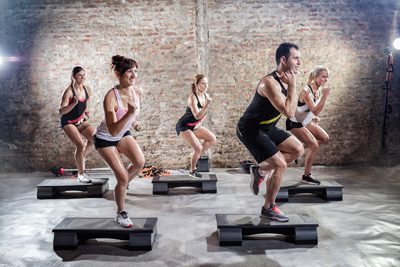 We all want to be outside to the extent possible, however, there are bad weather days or other constraints that negate your ability to work outdoors. Bring your workout to the gym. If your preferred workout involves brisk walking and uphill running, Group Blast Class in Foxboro, MA is a perfect alternative workout for you.
Group Blast Exercise Class is a 60 minute cardio training that utilizes "The Step". This workout involves a combination of various workouts that specifically target your muscles in your thighs and butt. The workout also challenges you to move up to advanced fitness level by increasing the height of your step. It's important to work closely with your instructor so they can adjust the height according to your current fitness level. This prevents over straining of your muscles as you keep up with the challenge.
The Group Blast Workout Program has four-phases: warm-up, skills and interval style training, strength and conditioning, and lastly, stretching exercises that target muscles. You have an hour to keep up with the pace.You will feel your targeted muscles effectively worked out at the end of every session.
To find out more about Group Blast Workout Class, contact Answer is Fitness.
Comments (0)
|
Trackbacks (0)
|
Permalink
|
|