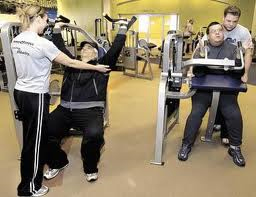 Life may be full of highs and lows. But your exercise patterns should not be one of them. If you commit and choose to stay motivated in your personal training, you can work your way to wellness. You will not only be healthy, you will also be happy.
Hard work always pays off. Personal training is just as effective for the beginners as it is for experienced exercisers. Personal training sessions are also scalable, so as you become more experienced, your workout can become more demanding. A commitment to exercise will help you shed unwanted and extra weight and improve your physical fitness. Personal trainers will help your create attainable and realistic fitness goals, then help you gradually progress to the next level as you become more healthy.
Personal training in Foxboro, MA can consist of body weight training, free weights, cardio machines, or a combination of all of these options. The intensity and frequency of your workout can be increased based on your performance and fitness level. With the help of your personal trainer, you can design a program in which you can maximize your workout, hitting the target areas and focusing on the muscle groups you want to work.
The secret to living better is to maintain a balanced diet and continue to exercise. To find out more about physical fitness and personal training, contact Answer is Fitness.
Comments (0)
|
Trackbacks (0)
|
Permalink
|
|