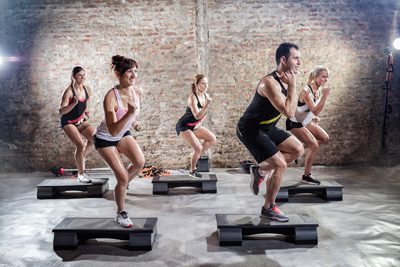 The depth of group fitness options here at North Attleboro's Answer Is Fitness is what sets us apart. Today, let's discuss our "Group Blast" workouts!
Group Blast workouts are a great cardio workout that uses step aerobics as its primary training tool. Functional exercises, circuit training, and sports drills are all incorporated into one amazing fat-burning and muscle-building workout class. With dance-like movements and energetic music, you will surely have a blast.
Group blast classes at our North Attleboro fitness center uses adjustable step height allowing you to determine the intensity that's right for you. Whether you are a new exerciser or an athlete in training, this group exercise program works for all fitness levels and for anyone who wants results-oriented cardio training. As you engage your whole body with stepping and jumping exercises, balance drills, and quickness drills, group blast workout will make your heart pumping and gasping for breath enabling you to burn a number of calories. The more you elevate the step height, the more you work on lower body muscles such as gluteus and hamstring muscles. As a result, you'll have tighter and leaner body.
If you are new to group exercise, you'll experience that rewarding muscle "soreness" that reminds you that you really went after it. This body feedback is perfectly normal because your muscles are adjusting to the demand being placed on them. Once you'll get hang of it, you'll be coming back for more. By adding Group Blast class to your workout routine, you'll have a fun and a challenging group Step experience. To know more about this workout, contact Answer is Fitness.
Comments (0)
|
Trackbacks (0)
|
Permalink
|
|