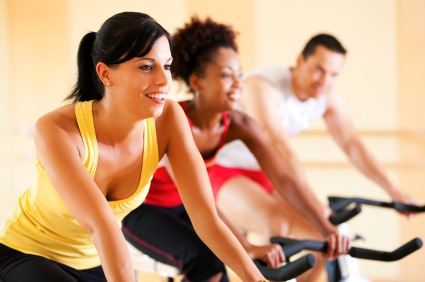 As usual this time of year, we're witnessing an increased volume of stationary bicycle fitness going on here at our North Attleboro fitness center. This comes as no surprise to us. Stationary bicycle fitness is a great low-impact aerobic exercise activity. It requires little to zero learning curve and can be accomplished in both solo or group environments.
Indoor cycling, unlike outside running or treadmill fitness, is considered a low-impact workout. There is minimal stress and tension placed on ligaments and joints. For some, choosing low-impact fitness routines is a life decision that can add years of quality of life. Some bodies systematically break down faster than others via high-impact fitness. Problem resolution can be long, painful, and expensive. Strongly consider adding some form of low-impact fitness to your regime.
The aerobic component of indoor cycling helps increase metabolism. Increasing metabolism helps your body to process nutrition more efficiently. This helps you control and manage good weight. Indoor cycling is just one of many fitness options for you hear at Answer is Fitness. Let's get started.
Comments (0)
|
Trackbacks (0)
|
Permalink
|
|