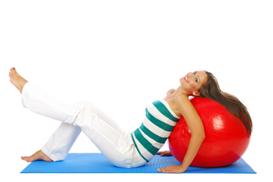 Pilates is a body conditioning exercise that helps to build flexibility, strength, endurance, and coordination in the legs, abdominals, arms and back. A mind and body exercise, Pilates emphasizes the balanced development of your body through core strength, flexibility, and awareness.

Pilates exercises can be geared to help you perfect whatever sport you play. Pilates for Tennis players helps develop mind and body awareness.

Pilates helps with injury prevention. There are a growing number of tennis players who practice Pilates to improve their muscle control and flexibility including Venus Williams, Lindsay Davenport and Martina Navratilova.

A tennis player not only needs to be quick, they need to have strong muscle endurance, flexibility and proper balance to last the match.

Tennis, by nature, is one-sided. Meaning you develop and use one side of the body more than the other. As tennis players only use one side of the hand and arm to hit the ball, they tend to skew the movement to only one side of the body.

These one sided movements create an unbalanced body, often resulting in over-use injuries.

Pilates helps tennis players improve the power of their strokes by increasing the strength of their powerhouse; improve body balance for quicker reaction and direction change; improve muscle control and improve flexibility, which in turn helps prevent back injuries.

Consistent Pilates exercise keeps your core muscles strong and gives you more powerful strokes and endurance for your tennis match.
Comments (0)
|
Trackbacks (0)
|
Permalink
|
|