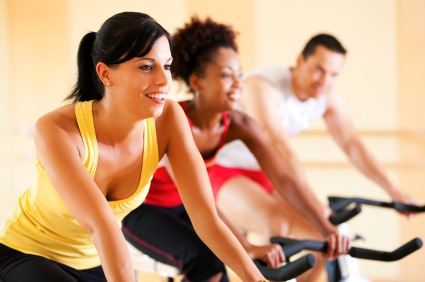 Spinning is not all about legs, lungs, and burned calories. It is a total body workout. During spin class, you stand and pull with your arms in simulated climbs. You get down on the lower handlebars and stress your core muscle groups. You cleanse toxins throughout the workout. You dismount the bike with an extreme sense of accomplishment.
Spinning is a superb exercise for all age groups. It is a low-impact workout which therefore makes it a great workout for youth and elders alike. The bike's pedal resistance is adjustable thus allowing you to be as relaxed or aggressive in your workout as you like. Regardless, in Indoor Spinning, you will burn significant calories while toning multiple muscle groups.
Regular spinning classes significantly increase cardio endurance. Stationary bikes can track the number of calories you burn, your mileage, and your pulse. This empowers the rider to quantify the intensity of the workout. Smart spin bikes empower those who seek to achieve and sustain target heart rates.
For more information about the benefits of spinning, contact Answer is Fitness.
Comments (0)
|
Trackbacks (0)
|
Permalink
|
|