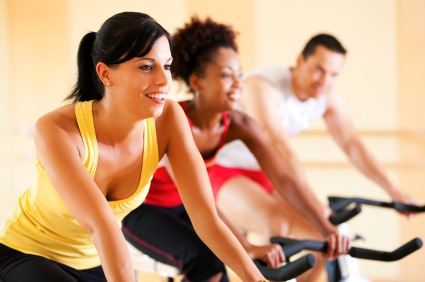 Perhaps you love bike riding, but inclement weather may be preventing you from enjoying your favorite activity. Or, you may be looking for a more structured setting to help you stay motivated in achieving your fitness goals. Whatever your reasons for not being able to get in the sadle, consider the head-to-toe benefits of indoor cycling workouts.
There are many reasons why you should go to the gym and sign up for spinning cycling classes in Foxboro, MA. If you want to build muscle and endurance, then this is one of the top benefits that indoor cycling has to offer. Cycling mainly targets the legs and gluteus muscles. Your arms and core muscles are also involved as they help keep you centered over your bike throughout the workout. If you are looking forward to shedding a few pounds, indoor cycling can help you burn an average of between 420 and 620 calories in an hour of riding a bike. Additionally, this workout keeps your heart pumping which makes it a great choice for a regular cardio workout routine.
Most of us have heard about the "runner's high". This is the point in which our brain releases endorphins after exercise. These are neurotransmitters that can cause feelings of euphoria and even act as painkillers. Fortunately, this benefit can be achieved from other physical activities as well, in addition to indoor cycling. Joining tempo cycling workouts can make you feel physically better but can also make you feel happier and less stressed.
To find out more about the benefits of indoor cycling workouts, contact Answer is Fitness.
Comments (0)
|
Trackbacks (0)
|
Permalink
|
|