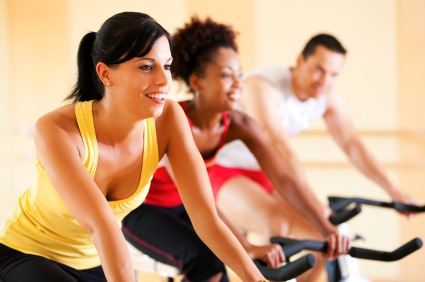 There are many reasons why people choose indoor cycling as part of their workout regimen. If you have recently found biking to be a fun and effective exercise, but you are having a hard time finding the time to fit it into your schedule, perhaps consider joining indoor cycling workouts. Indoor cycling has proven to have several health benefits.
Enrolling in spinning classes in Foxboro, MA can contribute to overall muscle health. By exerting the force needed for pedaling, cycling workout routines will increase the endurance of your lower muscles such as quadriceps, hamstrings, glutes, and calf. Your upper body muscles like arms, core, and back muscles are strengthened as well. Since indoor cycling is good for all muscle groups, it is also beneficial for your bones, tendons, and ligaments. When muscles and bones work together properly this develops proper balance and good posture. Additionally, indoor cycling improves blood pressure and cholesterol levels which also makes it a good exercise for the heart.
Since indoor tempo cycling workouts are low impact, they are safe for all ages and abilities. Even pregnant mothers, seniors, those new to exercise, and those who have recently recovered from injuries can turn to this exercise. It is considered a low risk of injury type of workout, but all the muscles, bones, tendons, joints, and ligaments move together in a high intensity manner which makes this exercise a wonder.
To find out more about indoor cycling workouts, contact Answer is Fitness.
Comments (0)
|
Trackbacks (0)
|
Permalink
|
|