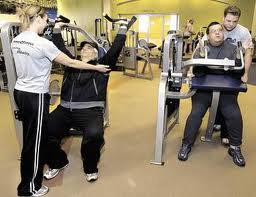 Your trainer will take charge in strategically developing a progressive model of personal training. This allows you to achieve your weight loss goals faster while you become more and more fit as a result of each session. Your personal trainer will be your primary "thinspiration" while pushing you to new limits, moving you forward in order to reach your specific goals.
A personal training program in Foxboro, MA paves the quickest way to your ideal weight and a toned figure. This will leave you encouraged and empowered and the results will keep motivating you to continue your pursuit of fitness and health. Therefore, personal training can be considered as a good starting point by many for changing personal lifestyle and habits for the better.
Weight loss through personal training is comprised of a structured fitness program which will focus on weight loss as well as muscle building. It is an effective alternative for people who want to get in- and stay in- shape permanently rather than deal with the frustrating fluctuations in weight. While proper nutrition is essential to a healthier body, making sure that it is paired with a balanced and challenging workout can enhance the effects of a healthy diet.
For more information on achieving your ideal body and lifestyle, contact Answer is Fitness.
Comments (0)
|
Trackbacks (0)
|
Permalink
|
|