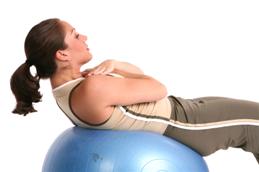 You may have had weight loss as a New Year's resolution. You may have already thrown in the towel. But it isn't really your fault. Without the right exercise program, you can get bored. But, you can spice it up and add something different by adding Pilates classes to your exercise routine.
Muscles burn more calories than fat. So, a muscular body burns more calories at rest than a body with less muscle. Maybe you don't want to lift weights, or perhaps you are not comfortable in the weight room of your gym. Pilates helps build muscles.
Creating muscle is the best ways to increase the amount of calories you burn before, during and after exercising. When your body has more muscle, it can burns more calories. Pilates can help you build muscle without the wear and tear of weight lifting. This makes it an exercise for all types of people; those new to exercise, seniors, those with injuries or experienced athletes. Best of all, Pilates exercises work on your 'long muscle groups' helping to creates a trimmer appearance which allows you to see the difference. Pilates is strength training. But you won't feel like your 'bulking up'. You work with resistance to increase strength giving you more muscle mass.
Even though you won't break into a sweat in Pilates class, don't be fooled. Through slower movements Pilates focuses on the major muscle groups and helps build and maintain lean muscle mass. Improve your posture, create a longer more body and increase muscle mass with Pilates.
If you want to meet your weight loss goals and spice up your exercise routine, Pilates has become very popular. More and more people are choosing Pilates as a weight loss exercise. Through the longer, slower exercises that define Pilates, you will become more aware of your body and your posture as well. This creates mental well-being which aids in helping weight loss happen.
For weight loss and a more trim appearance, contact Answer is Fitness for more information on the Pilates programs.
Comments (0)
|
Trackbacks (0)
|
Permalink
|
|