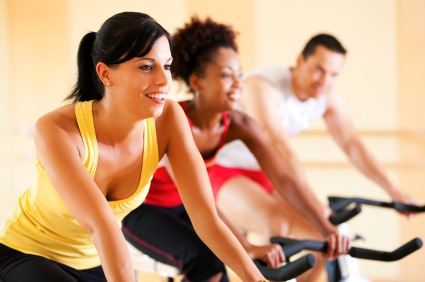 Spinning on stationary bikes is one of our most highly attended organized fitness routine by our fitness patrons. This is because the workout supports all fitness levels and is a fairly straight forward exercise. You just need to mount up, start pedaling, and feel the rhythm of you, the bike, the instructor, and those training around you. Group spinning here in Foxboro, MA is both fun and effective. Group cycling workout sessions synchronize the workout to a dynamic music which both sets the pace and moves you smartly through the session.
Group cycling will burn calories and improve your heart health. It will also aid develop your stamina gradually so you can build an increasingly intense pace. You are free to adjust the intensify your exercise by adding (or decreasing) resistance. It will add more challenge to your workout and will contribute greatly to your fitness progress.
If you are interested of adding this workout to your fitness training, contact Answer is Fitness. Our training coaches can help you get started.
Comments (0)
|
Trackbacks (0)
|
Permalink
|
|