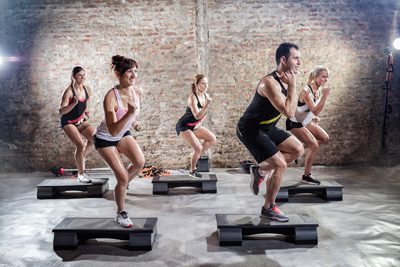 Group Blast class has been around for quite some time now. However, this step aerobic craze is still a popular workout because of the many benefits it offers. Stepping up, down, over, and around the adjustable platform while synchronizing your moves to the dynamic music makes for a superb fat-blazing and muscle-building workout.
Group Blast class in Foxboro, MA employs plastic aerobic steps with non-slip surfaces. The platforms can be raised to step up the challenge and intensity of your workout. The stepping and jumping exercises raise your heart rate and make you breath rapidly. When done regularly, Group Blast will strengthen your cardiovascular system as you burn extra calories. Resistance training can also be integrated by using resistance bands, kettlebells and other forms of weights. Doing this exercise class regularly will tone and strengthen your upper and lower bones and muscles.
Group Blast workout is also a great group exercise class for improving your balance, agility, and coordination. If you are new to this style of exercise, it may be challenging. But when you get the hang of it, you'll reap the incredible benefits and have a...BLAST. Contact Answer is Fitness to find out more about this workout.
Comments (0)
|
Trackbacks (0)
|
Permalink
|
|