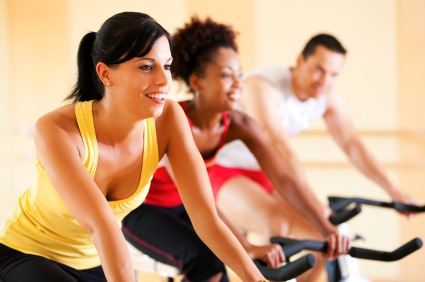 Winter weather and cold temperatures can hinder your regular outdoor biking workouts. However, no need for concern because indoor cycling workout class in North Attleboro, MA offer the same excellent and exciting workout. This indoor training can provide you the same intensity as cycling outdoors.
Many cycling enthusiasts turn to indoor cycling workouts to maintain their fitness routine and to keep their momentum up when the weather does not permit outdoor biking. Additionally, this exercise exciting because you are participating in a class with like-minded individuals, to great music, and an instructor who pushes and challenges the entire class. Not to mention, the upbeat music synchronizes your every spin to stimulate your senses and activate mood enhancing hormones in the brain. The other participants also help motivate and challenge you to step up the intensity level.
The short bursts of intensity along with intermittent rest periods in indoor spinning class can deliver faster weight loss results because of the interval style training aspect this workout brings. Plus, all the additional benefits of a comprehensive workout like better blood and lymphatic circulation, enhanced immunity and improved cognitive function.
On top of that, indoor cycling maintains muscle memory and helps cardio exercises when difficult weather conditions prohibit intense outdoor exercise. With professional indoor spinning trainers, you can safely carry on with your fitness routine anytime you want. Contact Answer is Fitness to learn more about this workout.
Comments (0)
|
Trackbacks (0)
|
Permalink
|
|