If you are trying to lose weight there are a few cardio exercises that are considered the most effective: running, cross country skiing and cycling to name a few. Many people don't enjoy running, and cross country skiing is out for the summer, so how about cycling?

Indoor or out, no matter the season, cycling is a great cardio exercise for weight loss. By using the power of your legs, you increase endurance while burning lots of calories, anywhere from 250-500 in 30 minutes, depending on how fast you go and how high your resistance. What makes cycling even better is that it is low impact. Anyone can do this exercise which is great for your joints and perfect cross-training for high impact activities like running or group step.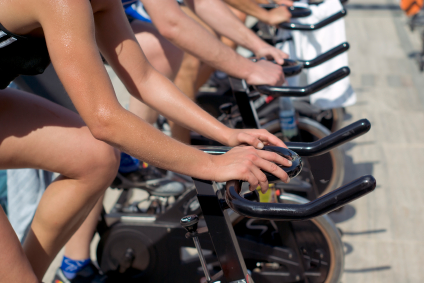 Spinning classes, also known as cycling classes, can be a great way to burn calories and keep your muscles in shape.

Cycling Classes offer:
An effective workout
Varied routines and music keep things fresh
Great for all
No helmet
Spinning classes are done in a fitness studio, with fun lights and music creating an energized atmosphere. Our instructors guide you through workout phases. You control resistance on your bike to make the pedaling as easy or difficult as you choose.

For a cycling class in your area, contact Answer is Fitness.
Comments (0)
|
Trackbacks (0)
|
Permalink
|
|