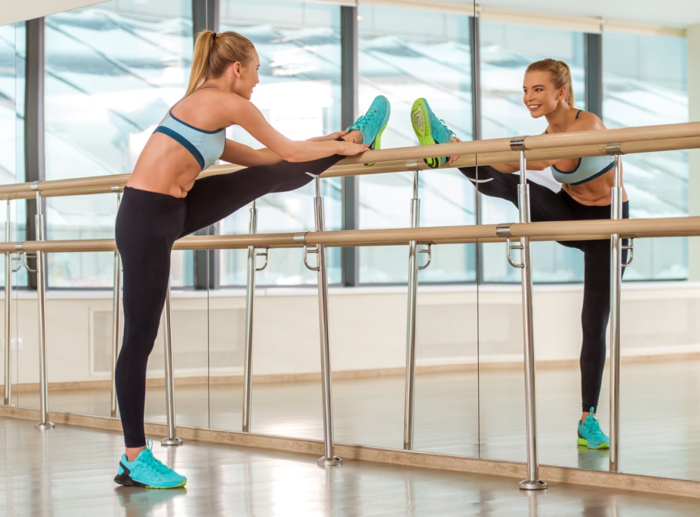 Are you ready to sculpt lean legs, glutes, and tone your arms and back? Come and give yourself an amazing start. If you are looking for a low-impact, strengthening workout that requires finesse and mind-body connection, Barre Fitness is an excellent choice.
Once you attend a new barre class, thinking you know what you are in for: some abs work, lots of pulsing up and down, maybe something resembling ballet. Then, the next thing you know you are being instructed to tuck your pelvis, sit under a barre with your leg up, and pulse a muscle that you are pretty sure does not exist. Then the end of class rolls around, and you realize you feel strong, poised, and flexible and it all seems way less intimidating.
Promising to tone your body and burn fat, all while improving your range of motion and flexibility, Barre Fitness Workout involves performing small, isometric movements, using your body weights and small dumbbells as well as resistance bands and holding your body in positions to feel the burn.
Barre workouts are intensely focused on improving core strength, developing the stabilizing muscles of the shoulder and hip girdles, and enhancing flexibility. This is done mostly by performing isometric exercises and small movements that burn out muscles at a specific joint angle within a given range of motion. The result is the shaping of common female trouble zones—tightening up the hips, glutes, thighs, and core—while improving posture, which can result in greater confidence and the appearance of a longer, leaner physique.
It is effective because they are certainly good for improving core strength, flexibility, and muscular endurance. They may help lift and shape trouble zones. And of course, if they are enjoyable enough to motivate you to stick to a workout program, then by practically any standard, they will be considered effective.
If you are already fit and healthy, adding a barre workout to your routine can certainly help you tone up and improve your posture. Likewise, if you are relatively sedentary and you decide to start attending barre classes, you are likely to see changes in weight and tone largely due to your relative increase in exercise and strength training.
It is ideal if you are just getting into exercise. The workout will improve your balance, build strength, make you more flexible, burn calories, and improve stability through a stronger core. As you get more comfortable and fit, you can ramp up the intensity by adding weights and more challenging moves. If you have more experience and are looking for something new to challenge yourself, advanced barre classes can do the trick.
Barre workouts sneak up on you! It will not take long before all the squatting and pulsing build heat in your muscles! The time is under tension that happens make you realize just how strong your muscles are becoming ! Get ready to shake and quake and feel the burn all over!
For more tips on Barre Classes, contact Answer is Fitness.
Source: verywellfit.com
Comments (0)
|
Trackbacks (0)
|
Permalink
|
|