Get ready for spring by clearing out those winter cobwebs from your hips, back, neck and head. How? With yoga. Join Fabienne at Answer is Fitness for 6 Special Viniyoga classes, Sundays, 11:00am to 12:30pm, March 18 to April 29.

Viniyoga is a therapeutic yoga practice designed to alleviate pain and promotes health in the lower and upper back, sacrum, hips as well neck and shoulders. The therapeutically oriented yoga style of Viniyoga is more effective than traditional exercise for improving function and pain in patients with chronic low back pain.

Viniyoga is using repetition for both muscular and neuromuscular benefit. In order to change the condition of a muscle, it is not enough to stretch it but you need to alternate between stretching and contracting using. This process brings more blood circulation to the muscle which helps relax the muscle and make them stronger.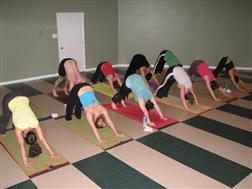 Get your body and your mind ready for spring through Yoga.

For your body:
Stretches and tones muscles
Releases chronic tension
Improves circulation
Energizes and refreshes
For your mind
:
Calms restless thoughts
Cultivates concentration
Supports mental clarity and confidence
Promotes self-awareness
Contact Answer is Fitness for more information.
Comments (0)
|
Trackbacks (0)
|
Permalink
|
|