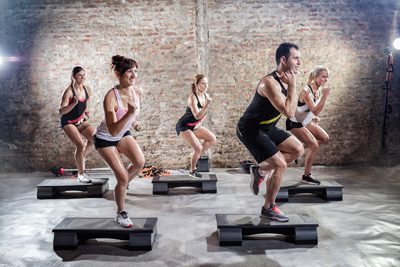 It is a great feeling exercising within a group. Many feel genuinely inspired and excited as they move about in Group Blast, exercising to exciting music, and feeding off those around them who obviously love their workout. Group Blast generates excitement and enthusiasm and that enthusiasm is contagious. And who among us in these tying times can't use some positive contagious transmission? Give Group Blast a try and feel for yourself the power and reward that so many of the participants enjoy.
With Group blast you will experience working out that uses the step in a highly effective athletic way. You will be working hard and playing hard at the same time. Since it is more on the athletic ways, it is a sport-inspired cardio workout that will bring out the inner athlete in you. You will have fun during the one hour cardio workout training as the music speeds up, your heart rate increases and you will really start to burn some calories. You will easily adjust because it uses simple, athletic intense movements and adjustable step height that will push you at the right level that is right for you. And the exciting part is you will have a blast because the exercises are set to motivating, energetic music. Just keep on grooving!
In doing this workout, it will enhance your fitness level, the agility and coordination is noticeable and you will have the power and strength to go with the beat of the music. You will realize time goes fast. Before you know it, you are having mixed emotions as you are getting the hang of it and wanting for more. Just go with it and you are surrounded with good people that will challenge you to make you better.
For more tips on Group Blast, contact Answer is Fitness.
Comments (0)
|
Trackbacks (0)
|
Permalink
|
|