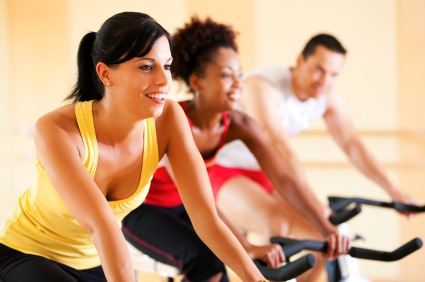 When you're searching for a challenging cardio workout with low impact, with innovative equipment and invigorating experience, consider spinning classes and start enjoying the long list of its health benefits that it provides. Indoor cycling workouts help you shed fat, improve your heart health and boost your muscle endurance. You accomplish this without the threat of injuries associated with high-impact athletics such as running. This energizing workout allows you to drench in sweat and get your blood pumping without hurting your knees and feet.
After joining an indoor cycling class you'll experience a particularly rewarding sense of accomplishment.. With the combination of various pedaling routines, motivating music, and sweating side by side with friends, you'll feel uplifted and euphoric. Our spinning classes in North Attleboro, MA ensure that before you start cycling every piece of exercise equipment to be used are programmed or set according to your individual needs and body type for maximum results. Also, with the fast music incorporated in this workout, your motivated to pedal harder and faster. You're able to experience cycling with bursts of speed, like uphill climbs, pedal in standing position, and even easy pedaling for short recovery periods.
Though tempo cycling workouts are very intense, they put far less pressure on your hips, knees and ankles. Thus, they're easier on your joints, reduce the risk of injury, and avoid discomfort. Even people recovering from orthopedic injuries can perform indoor cycling as part of the rehabilitation process.
To learn more about the benefits of spinning classes, contact Answer is Fitness.
Comments (0)
|
Trackbacks (0)
|
Permalink
|
|