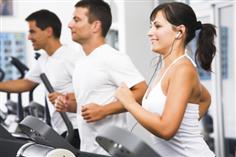 Memorial Day is here, summer is right around the corner. It is time to lose winter weight. The fastest and easiest way to do this is through exercise and eating right. As winter wanes into a faded memory, we all think, "no problem, the weather is better, I'll start exercising now." But how many times has that desire not come to fruition. Life doesn't slow down just because summer is here.

So, in order to meet your weight loss goals, you need to set weight loss goals. Those goals cannot be vague. "I want to lose weight," or "I'm going to start exercising" are not good enough goals. They are, however, a good place to start.

In order to set fitness goals, you need to have a goal that is measurable and attainable. Goals like: "I want to exercise 2 time a week for 20 minutes," "I am going to walk a mile 3 times this week," or "I want to cut soda out of my diet" are measurable and attainable.

Setting fitness goals is not that easy. So you want to be a size six, or you want a 32" waist, but if you have never been a size six or have never had a 32" waist, these goals are not attainable. Personal trainers can help you set your fitness goals. Having a gym membership will help keep you committed and will provide you with the equipment and the menu of exercise classes to keep your workout exciting, challenging, and new.

You can lose weight and get in shape before the "official" start of summer. But you need an exercise plan, fitness goals, motivation and commitment. Right now Answer if Fitness is offering a summer fitness sale. Join by June 15 for $9.99/month and your summer membership is free. Life continues on even though summer is here. In fact for many, life becomes more hectic. Let Answer is Fitness in North Attleboro help. Contact us.
Comments (0)
|
Trackbacks (0)
|
Permalink
|
|