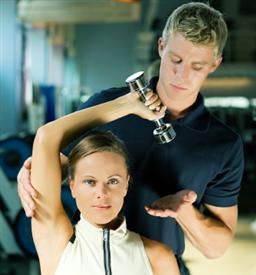 You are either frustrated with your weight or frustrated that you have plateaued in your weight loss plans. Are you frustrated and trying to get your weight loss plan back on track? You may have to do something more, or something different. "You are," you say.

Actually, you may think you are doing enough, but you are probably not. This is where personal training comes in. Personal training is not just for athletes. Personal training is for any BODY that wants to get healthy, get fit, lose weight, gain weight or maintain weight.

Personal trainers will devise a personal workout routine for you. They hold you accountable; they become your friend (and sometimes your enemy). When you work with a personal trainer, you will develop realistic and attainable fitness goals. And personal trainers will determine what kind of weight loss personality you have.

Over time, your personal trainer will know more about you than anyone else. Your personalities will click and you will spend more time with your trainer than you will with some close friends if you work out an hour every week. It is not unusual for trainers to bond closely with their clients.

You need to feel extremely comfortable with your trainer, and you have to be brutally honest about everything. The more of a bond you have with a trainer, the more successful you become in your training relationship in general. But a successful client-trainer relationship is built on friendship, but mostly on a good workout and results.

When you miss or reschedule a personal training appointment, you should feel like you have missed an important part of your week.

For more information on personal training packages at Answer is Fitness, contact us.
Comments (0)
|
Trackbacks (0)
|
Permalink
|
|