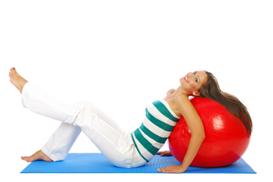 When you add muscle mass, you burn more calories at rest. So adding muscle mass is a great way to lose weight. There is a fun way to do this without lifting weights.

Pilates. Pilates is strength training. You work with resistance to increase strength which results in more muscle mass. Pilates can help you build muscle.

Without breaking into a all out sweat because you focus on major muscle groups and slower movements, Pilates creates a trimmer appearance. And, can help your body build up and maintain lean muscle mass. As a result, Pilates improves your posture and creates longer, more lean and fit bodies.

Pilates restores the natural curves in the spine by stretching and strengthening the muscles. Pilates offers a focus on core stability to maintain a balanced and aligned body that looks fit, feels revitalized and moves with ease. Pilates has become a very popular weight loss exercise and can help you reach your weight loss goals.

Pilates supports weight loss and a more trim appearance. Contact Answer is Fitness for more information on the Pilates program.
Comments (0)
|
Trackbacks (0)
|
Permalink
|
|