Most people, regardless of their age or physical activity level, can benefit from Pilates. Pilates as an exercise program can have amazing health benefits, but it can also increase your self-confidence and over all well-being. Through strengthening the core of the body, you achieve great physical results, but you also will be surprised with the betterment to your mental health too.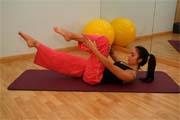 Pilates strengthens the core of the body. Your core is the muscles in the back, tummy and rear, and these muscles affect your entire body. With each pilates move, you are actually working the entire body, not just one muscle group. Pilate's exercises lengthen and de-compress the spine. With increased strength in your core and increased stability, and elongated core muscles your posture will improve and your body will appear longer and leaner, not bulky. And, of course, a strong core results in a smooth, toned belly. Through Pilates exercises you will be feel more stable standing, walking and sitting. Great posture and a firm belly will always result in an increase in self confidence.

Pilates also increases your mind body connection. To successfully benefit from Pilates, you must properly perform the exercises. The rythme of your breath is an important part of Pilates exercises so your mind must be engaged in the activity and focused on your breathing. While some moves require inhaling, others require exhaling and proper breathing requires a mental focus that many other exercise programs do not require. The focus of Pilates is on controlling your entire body, not exercising to death. Proper focusing abilities are tools you can use in any area of life, not just your exercise program.

Because Pilates is a low impact workout, anyone can participate. If you suffer from joint pain or muscle issues you can do the movements to your own level of control. There is no impact on those sore muscles and joints. Pilates greatly increases your flexibility, while strengthening muscles at the same time. Everyone from senior citizens to growing children can benefit from Pilates exercises.
Comments (0)
|
Trackbacks (0)
|
Permalink
|
|