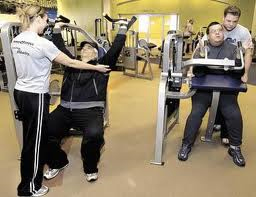 Have you ever thought you might like to sign up for a personal training session?

For many reasons a personal trainer may make a difference in your health, the quality of your workout, your outlook and your overall well-being. Personal trainers can make a difference in your health and wellness.

Why should you choose to use a personal trainer?

1. Are you new to fitness or have set a goal? Maybe you do not know where to start. A personal trainer can help you set your goals and design a workout specific to your needs. A trainer makes sure that you are doing exercises correctly to maximize the benefits and to avoid injury.

2. You need to be challenged when you are exercising. A personal trainer will push you through your limits by encouraging you to keep going. Hidden strengths will give you motivation to continue to improve.

3. If you have an old injury that you need to take into consideration while working out a personal trainer who is certified and experienced can accommodate your work out and give you modifications. Personal trainers can give you work out programs that will help you improve your health and avoid further problems.

4. If you you training for an event or a sport a personal trainers will understand your goal and personalize your workout to help build the strength and endurance you need to be successful.

5. Everyone needs accountability and motivation. A scheduled appointment with the trainer is going to keep you accountable.
For more information on the personal trainers and personal training packages at Answer is Fitness, contact us.


Journal Gazette and Times Courrier


Comments (0)
|
Trackbacks (0)
|
Permalink
|
|