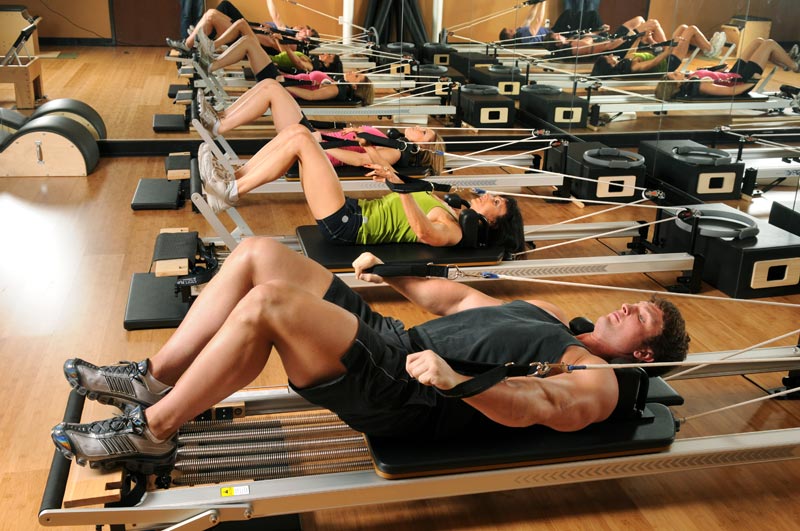 It is time to start firing up! Do you want to take your Pilates to the next level? Consider Pilates Reformer as a way to change your body for the better? If you have not tried reformer yet you will learn to love it. It will engage your entire body head to toe. It requires balance, coordination and concentration.
Pilates teaches you to trust your body when working with the Reformer beds. You will learn to pull your own weight up and do twists and turns that you never think you will do. Pilates Reformer is the fantastic way for sculpting and toning the entire body. It will create long lean muscles without the added bulk. It will challenge your body's stability and control.
Pilates here at AnswerIsFitness in North Attleboro, MA targets everything and is very functional. It will help your posture, strength, flexibility, joints and areas where you are tight. It is a very safe exercise, especially when using the reformer which is very stable and supports your core, back, glutes and hips. You will notice sudden change in your body shape. From simple changes like better posture to dramatic slimming, toning, lengthening your muscles and strengthening them.
Benefits of using the Pilates Reformer:
Increased Muscular Endurance


Your muscles exert force to overcome resistance. With your increasing muscular endurance, you exert force for extended periods. Increased endurance enables you to perform everyday tasks without fatigue. It will improve your muscle tone as muscles are lengthened and strengthened without appearing bulky.

Increased Core Strength


Exercising on the Pilates Reformer will require proper form and technique. The focus of proper positioning is within your core, your abdomen and lower back muscles. By conditioning your core muscles, it will contract with all your movements to stabilize and align your spine. Core strength increases your ability to generate power to your muscles and decreases the risk of injury.

Improved Posture


Pilates Reformer will improve your spinal alignment. With improved alignment, your muscles will strengthen to improve spinal support and stability. Your improved posture will lengthen your joints giving you a taller appearance. Muscular imbalances will be corrected decreasing the risk for injury, especially to the lower back.

Increased Flexibility


Working out on a Pilates Reformer will require your muscle groups to move through a full range of motion. It will improve flexibility, decreases strain and stress on your joints and muscles. Muscles contract with increased efficiency, and workouts are more effective.

Improved Breathing


Pilates workouts will emphasize your proper breathing. Your breathing will become deeper and less frequent, resulting in improved relaxation. It will increase lung capacity and breathing efficiency during workouts and at rest. Your lungs are better equipped to supply your body with increased oxygen during workouts. Energy levels increase during your exercise and at rest.
Pilates Workout is safe enough to do every day. If you are consistent with it and make a commitment to yourself, you will see a change in your body. Do not just try it once. Give it a few shots and do it in succession. Physical fitness is the first requisite of happiness. Treat it as a reward to yourself.
Pilates Reformer has so much to offer. Once you get hooked on Pilates you will wonder why it took you so long to discover it!
Twist and turns for a shaper body!
For more tips on Pilates, contact Answer is Fitness.
Source: blogilates.com
Comments (0)
|
Trackbacks (0)
|
Permalink
|
|