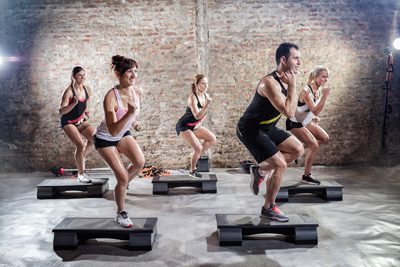 Regular exercise and fitness are one of the best ways to improve health, lose weight, and maintain a healthy lifestyle. However, not everyone is inspired to exercise by themselves. Too often boredom and lack of motivation can cause you to give up on your fitness program. That is why many fitness experts strongly recommend group fitness training to provide the motivation to exercise harder and more regularly, helping you to reach your fitness goals faster. If you want an energetic, inspiring, and results-oriented workout, consider Group Blast training.
Group blast class utilizes the step as an effective training tool that integrates athletic movements to improve your aerobic capacity, agility, coordination, and strength. This 60-minute heart pounding cardio workout is set to energetic music, creating a fun, lively, and effective way to strengthen your muscles and your cardio health. Group Blast training allows you to burn calories and tone muscles for a leaner and more fit body. Because this exercise is done in a group environment, other participants in the class will be sweating with you, to help inspire you to train harder and push past your limitations.
Group Blast Training in North Attleboro, MA appeals to both new and experienced exercisers. From step height to movement variations, you can start with a low step routine and as you progress, you can step up to a higher and harder program. The intensity is up to you.
To find out more about this effective cardio training, contact Answer is Fitness.
Comments (0)
|
Trackbacks (0)
|
Permalink
|
|