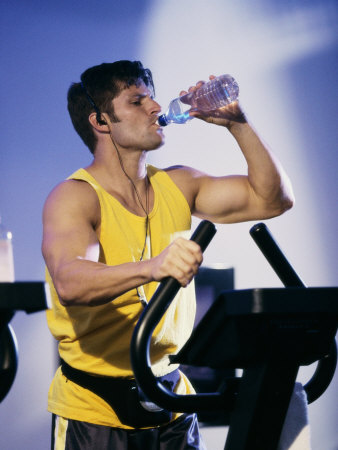 Summer is an great time to work out outdoors. The Vitamin D you receive from sunlight aids in absorption of calcium, magnesium, phosphate and other essential minerals for our body. However, when you decide to take a hike, jog nearby hills, or cycle during the summer, make sure to stay ahead of your hydration. Working out in the heat can be dangerous. We are susceptible to dehydration as we lose fluids from physical exertion. The body releases heat through the process of sweating. Consequently, it is critically important to replenish the lost fluids by drinking water or beverages that contain electrolytes. A well hydrated body improves performance and guards against heat stroke.
When you go outside to workout, make sure to carry a water bottle at all times. Hydrate continually. Don't wait until you feel thirsty. If you find that your urine is colored after workouts, this is a very clear sign that your body is not getting properly hydrated. Dehydration will cause lethargy, weakness, and potentially life threatening conditions. So if you don't want to put yourself at risk, hydrate before, during, and after your workout.
For more fitness tips, contact Answer is Fitness.
Comments (0)
|
Trackbacks (0)
|
Permalink
|
|