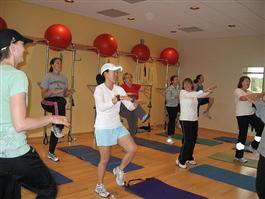 The best way to lose weight and get in shape is through interval training. Interval training is the when you add bursts of high-intensity workouts interspersed with periods of low-intensity workouts. The perfect interval training workout is Bootcamp.

Bootcamp is a training program or workout designed to build strength and fitness through intense group intervals. Boot camp workouts are perfect for those who don't have time to workout or who have busy lifestyle because it is efficient. With bootcamp workouts, you workout your entire body going from one exercise to another with no breaks.

You can maximize your workout time by combining functional, core, strength and cardio training into one hour! Boot camp workouts usually include calisthenics like pushups, crunches and other body weight exercises. What makes this different is these callisthenic exercises are combined with cardio vascular exercise as well. With Bootcamp the difference is in the intensity.

For more information on the boot camp program where you work, sweat and burn calories like crazy, contact Answer is Fitness.
Comments (0)
|
Trackbacks (0)
|
Permalink
|
|