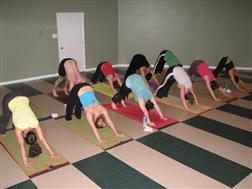 Yoga is good for the body and mind. It is exactly the group exercise class that is perfect to beat the winter blues. Allowing you to focus on the breath, body and mind and relaxation, your get a workout for the body and soul. Answer is Fitness offers regularly scheduled Hatha, power, slow vinyasa and sunrise yoga classes for all levels.

However, if you want something a bit more challenging, Answer is Fitness is also offering a Ashtanga Yoga workshop on Saturdays from 12:30pm – 2:30pm Feb. 16 through Mar. 23. Experienced yoga participants only.

Ashtanga yoga is also called power yoga. So what is Ashtanga yoga? It is the form of yoga most used by athletes or people who want to increase strength and stamina. Ashtanga yoga postures have a higher degree of difficulty than other styles of yoga and the postures are done as part of a series. This means, when practicing Ashtanga yoga, you will move quickly from one posture to the other to maintain a focus on strength while still concentrating on breathing and relaxation.

For more information on all of our yoga classes and their benefit to your body, contact Answer is Fitness.
Comments (0)
|
Trackbacks (0)
|
Permalink
|
|