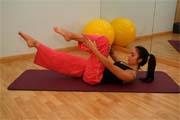 Pilates exercises are a refreshing mind-body workout that can make a difference in your health. You can work on different muscle groups to tone your whole body without getting bulky. You will also learn to breathe properly which allows you to reduce stress and relieve tension.
In Pilates classes in Canton, MA, the quality of movement is valued over quantity of repetitions. In addition to concentrating on smooth flowing movement, there is also emphasis on proper breathing and correct spinal and pelvic alignment. As a result, you will be able to execute Pilates exercise routines with maximum power and efficiency allowing you to achieve faster and better fitness results.
Not only will you achieve weight loss through Pilates, but you will also enjoy other health benefits. Become acutely in tune with your body and learn how to control its movement. You will also develop a strong core with flat abdominal muscles and a strong back. You will also develop muscle elasticity and joint mobility while achieving balanced strength and flexibility.
To find out more about Pilates exercise classes, contact Answer is Fitness.
Comments (0)
|
Trackbacks (0)
|
Permalink
|
|