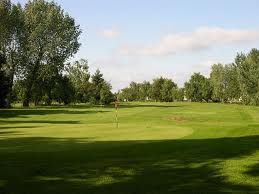 March is here and spring is around the corner. Pretty soon it will be time to get out on the golf course again. Do you want to better your golf game before you hit the green? Pilates for golf is how men and women improve their golf game.
Pilates is great for improving core strength, balance, co-ordination and mobility, all of which are required to master the golf swing. Pilates and golf are a natural blend. You can train all of the muscles required for golf through Pilates.
Pilates exercises are core-based, they all require the active participation of your abdominal muscles, back muscles, and gluteal muscles. A regular Pilates exercise routine will improve your alignment, balance, coordination, posture and fluidity of movement. Improving all of these principles will improve your golf game.
In addition to strengthening the core, which helps the power in your golf game, Pilates help you open the side body and increase spinal rotation. You will learn to stabilize your core to allow for maximum range of motion and support. Through a Pilates for golf exercise program you will be able to hit the ball farther and straighter, and reduce your risk of injury and back pain.
If you are ready to improve your game, contact Answer is Fitness.
Comments (0)
|
Trackbacks (0)
|
Permalink
|
|