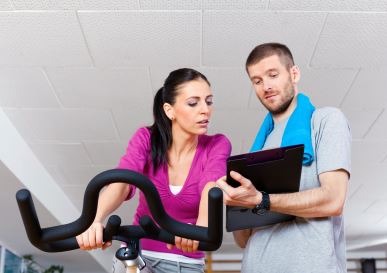 The holiday season is officially here with Thanksgiving arriving on Thursday. This season is a season for thankfulness, joy, reminiscing. Unfortunately, the holiday season can also be stressful. Add to the stress our tendency to overeat during this time of year and the feeling of 'too much to do' and exercise and a healthy lifestyle can go by the wayside.
During the season of giving, give yourself a gift, the gift of health. Get a head start on health and hire a personal trainer. Why wait for the New Year?
Best Reasons to Hire a Personal Trainer
Stay Motivated. Personal trainers are your coach, your fitness educator, your confidant, your role model and they keep you motivated while encouraging you to be all you can be.
Keep it Consistent – Many people find it hard to stick with their fitness routine, especially during the holiday season. Scheduling regular appointments with a personal trainer means you cannot make up any excuses for not exercising.
Exercise Safely – Personal trainers will show you how to exercise safely (including which exercises to avoid) and instruct you on the proper and safe use of exercise equipment.
Individualized Instruction – Exercise is not cookie cutter. Exercise programs should be specific to you and your fitness goals. A personal trainer will develop the most effective fitness program for you based on your fitness evaluation results and personal goals. Beginners in particular benefit from instruction on how to perform specific exercises and program planning.
Effective Workouts – During the holidays, you don't have time to waste on ineffective exercise routines. Personal trainers help maximize your time by providing workouts designed to meet your fitness goals quickly and efficiently.
Supervision – Personal attention during exercise is the primary function of personal trainers. Your personal trainer is there to observe, assist and, if necessary, correct as needed.
Sports-specific Training – Many athletes work with a personal trainer during the off-season to prepare themselves for in-season competition. Whether you want to shave some strokes off your golf score or beat your brother-in-law at tennis, a personal trainer can tailor your program to your sport of choice.
Injury Rehabilitation – Injuries and accidents can hold you back from exercising, and from participating in your sports and hobbies. A personal trainer can help you move along the road to recovery by recommending exercises that emphasize overall muscular balance to prevent future injuries.
Training for Specific Health Needs – Research confirms that individuals with health challenges such as diabetes, asthma, osteoporosis or heart disease benefit greatly from regular physical activity. Personal trainers are experienced in designing programs that address the special needs of these and other health conditions.
Ego Boost – It's a fact-feeling good makes you look good, and looking good makes you feel good. Your personal trainer can help you achieve your health and fitness goals, while giving you positive feedback on your performance and bolster your confidence to take on new challenges.
For more information, contact Answer is Fitness.
Comments (0)
|
Trackbacks (0)
|
Permalink
|
|