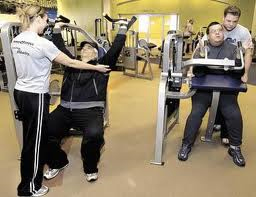 Many people are opting for personal trainers today. However, too many people are calling themselves personal trainers because they are interested in physical fitness. If you are considering hiring a personal trainer, remember that there are many ways to become a personal trainer, but those with credentials, certifications and required coursework are the only ones you should trust with your health and wellness.

For a person who's overweight, who's stressed out and wants to feel better, personal training may be the perfect choice. But be sure that they are qualified. Your personal trainer, group fitness instructor or health coach should be able to tell you not only what to do, but why you're doing it, they should be able to tell you the intent, for you and your body, behind a sequence of exercises.

Not all personal trainers are equal. Finding the right personal trainer requires a little research on how they were trained.

Hiring a personal trainer? Some questions to ask:
Where and how were you educated to become a personal trainer?
How many years have you been a personal trainer?
What organization certified you? Is that organization affiliated with the National Commission for Certifying Agencies?
Is your certification current?
What was the last continuing-education class you took? When and where you did you take it?
Can you provide three client references whose goals and needs are similar to mine?
What is your philosophy as a personal trainer?
What is the policy for missed training sessions?
Is your CPR/AED certification current?
For more information on personal training around North Attleboro, contact Answer is Fitness.
Comments (0)
|
Trackbacks (0)
|
Permalink
|
|