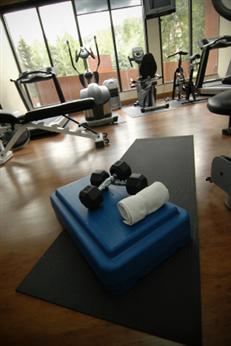 One of the best things women can do for their health is strength training. While most women take advantage of group exercise classes and cardio equipment, they forget about the dumbbells and strength training machines. Did you know that the average women's handbag is between 8-12 pounds? So if you are one of those women who may lift 3-pound weights, bump it up. You won't help yourself by working out with less weight than your handbag!
Why is strength training important for women's fitness?
Muscle burns more calories at rest than fat. So if you want to lose weight, it is important to add muscle. Strength training increases your metabolism and allows the body to burn additional calories up to 72 hours after strength training.
Cardiovascular exercise burns calories while you are exercising. But after you are done, you don't burn any extra calories. So, if the goal is to lose weight, adding strength training to your exercise routine should be first on the list. Why? Because the more muscle you have, the greater your potential to burn more calories.
In post-menopausal women strength training is especially important. Adding muscle helps with bone density, balance and weight loss. All of which are imperative for older women to stay healthy.
If you are worried about getting too 'bulky' as a result of strength training, don't be. Even men have a hard time adding bulky muscle to their bodies, and they have far more testosterone than women.
For more information, or for help in creating a strength training routine that is right for you, contact Answer is Fitness.
Comments (0)
|
Trackbacks (0)
|
Permalink
|
|