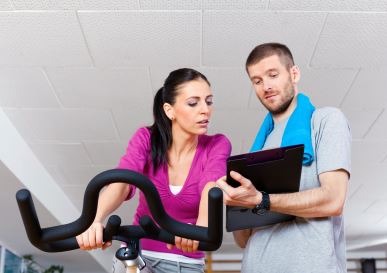 You may have given up on your resolution to lose weight, but during Heart Health month you can decide to lose weight and make lifestyle changes. If you are anxious about losing that winter weight, choosing personal training may be the right decision.
However, choosing a personal trainer is not just throwing a dart at a board. There are some things you should know about choosing a personal trainer. Choosing just anyone as a personal trainer is not the safest or most productive option. The personal trainer you choose to help you with your weight loss and fitness goals needs to be qualified and certified so as to have the proper knowledge of the body and the experience to work with any physical limitations you may have.
When choosing a personal trainer, here are a few things you should know:
The personal trainer you choose should be certified by a nationally recognized personal training organized. Always ask about a personal trainers' credentials.
The right training ensures that the personal trainer you choose has the proper knowledge of the muscles and how each muscles interacts with the others in the body. This way they can be sure that you are safely training, lifting and performing exercises. This promises that you will have the safest, most effective training sessions.
With a personal trainer your will have a personalized, motivating and effective exercise routine that is specifically created for your body, ability, and your goals. This helps to keep you motivated. Personal trainers are also able to modify exercises for novice or for injuries.
While personal trainers are not nutritionists, they are still knowledgeable about proper diets so they are able to offer advice about healthy eating.
If you are anxious in losing winter weight, getting healthy and changing your lifestyle, a personal trainer can help you make and reach your fitness goals. If you are interested in personal training to help you set fitness goals and hold you accountable contact Answer is Fitness in Canton.
Comments (0)
|
Trackbacks (0)
|
Permalink
|
|