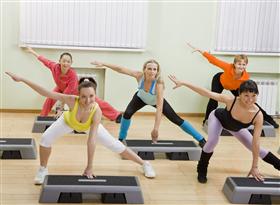 Participating in group exercise classes in Canton, MA can be beneficial because working out in a group provides support and promotes camaraderie. You are more likely to complete a well-rounded workout and push yourself a little bit more. As a result, you will get amazing fitness and health benefits you may have never thought was possible.
Group exercise also gives a sense of fun to your workout because you are working together with other fitness enthusiasts who share similar goals. Participants tend to develop a circle of friends in the group who will become a strong support system which helps to keep you consistently motivated. And if you work out with your new-found friends, you are less likely to be absent in a session because they are all expecting you and hold you accountable, while adding to the fun.
Each group exercise class provides direction through a certified group exercise instructor. You will learn the proper form for exercises, preventing injury. When you follow your trainer you will be able to engage each specific muscle group and target your problem areas. You will burn fat,l trim down and get in the best shape of your life.
To find out more about the available group exercise classes in Canton, MA, contact Answer is Fitness.
Comments (0)
|
Trackbacks (0)
|
Permalink
|
|