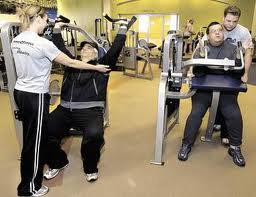 Personal training program in Canton, MA are proven to work for beginners to experts. Each training program can be customized to meet your specific fitness needs and goals. So whether you are a novice or a pro, you can be confident that your personal training program is tailor-fit for you personally so that you will meet your fitness goals and achieve faster and better fitness results.
A certified personal trainer will strategically design a training calendar indicating which days to do which exercises. While the workout routines are simple and easy to follow, your trainer will still be accompanying you because that is basically the purpose of a personal training. You will be working out with a certified instructor all throughout, teaching and guiding you to perform the routines in perfect form and correct you if needed.
Your specific personal training will help you to achieve the realistic and specific fitness goals you have set up with your trainer. Whether you want to prepare for a competition, rehabilitate an injury, lose weight for the holidays, just start getting in shape for the first time, a certified personal trainer will design a more personalized training program specifically for you, your lifestyle you're your goals.
To find out more about personal training programs, contact Answer is Fitness.
Comments (0)
|
Trackbacks (0)
|
Permalink
|
|