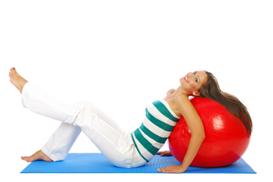 Women have many health and fitness concerns that are inherent to women alone. As women age it is very important that they remain physically active and healthy. Physical exercise is the best way to keep the mind and body healthy as women age.

However, even for younger women, those who watch what they eat and follow a simple exercise routine feel better about themselves and that's reflected in everything they do.

In order to do their best in all of their numerous roles, women need to put in place and maintain a healthy lifestyle. Regular physical exercise and a healthy diet are the best ways to improve women's health now and over time.

Healthy bones are important to prevent osteoporosis. Muscular strength has a direct correlation to bone density, so it is important for women to do weight bearing exercises regularly. However, endurance and flexibility are important to.

Flexibility, which you can develop through yoga and pilates, helps aging women prevent slips and falls and helps you in your ability to maintain your balance. Muscular strength also helps with balance as you age.

Physical exercise not only helps your bone health, but it has also been proven to improve your brain health.

Healthy eating habits and a regular cardio exercise and strength training regime important to healthy bones and a healthy lifestyle.

Contact Answer is Fitness for steps to a healthier lifestyle designed specifically for women of today.
Comments (0)
|
Trackbacks (0)
|
Permalink
|
|