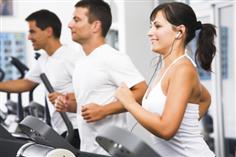 The weather has been fairly mild, but it cannot stay unseasonably mild for long. As the weather gets cooler and the days get shorter, we tend to put on weight. Keep winter weight gain at bay by starting now. Start now and develop a winter exercise routine, healthy eating habits and lifestyle changes. The faster and sooner you start, the easier it will be as the holiday parties arrive.
If you are looking for an easy way to lose weight, stay motivated, and meet your fitness goals, join a health and fitness club. To lose weight or maintain and existing weight in the winter, many people need all the help they can get. At Answer is Fitness, club members have access to a fitness environment with , the most advanced fitness equipment and programs and highly certified personal trainers.
Don't know if a health club in North Attleboro is right for you? Right now, we would like to give you an early holiday gift. Join us for a week with a free pass. Talk to our personal trainers, see the club. Have you previously tried to lose weight before without success? That is because you didn't set yourself up for success. Those who are committed and able to lose weight and exercise and change their lifestyle habits had help.
All group exercise classes, including: Group Power, Group Step, Group Kick, Group Groove, Yoga, Pilates, and Cycling have excellent instructors, personal trainers are specifically trained to help individuals meet individual fitness goals, and we can provide you with nutrition assistance and child care! With the highest standards in mind, you will enjoy all our club amenities including free weights, cardiovascular and resistance training equipment, group exercise studio, yoga, pilates and cycling rooms, a juice bar, tanning and executive style locker rooms.
The Answer is Fitness philosophy can help you stay fit, and lose weight better than any other plan. For more information, contact us.
Comments (0)
|
Trackbacks (0)
|
Permalink
|
|