...by Erica Garriety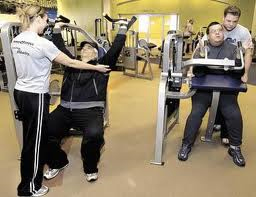 Often people make the mistake of starting an exercise program without having clear goals in mind. They just say they want to get in shape, or lose weight without any planned steps to do that. You have to have a clear goal in mind, and you have to track your progress towards that goal, otherwise, how will you know what kinds of corrections you have to make when you are having trouble reaching your goal?

The best way to help yourself track your progress is to keep an exercise or weight-loss journal. Write in it daily to keep track of what you have or have not accomplished that day. This will help keep you motivated as you see small progressive steps add up. And that's one of the facts on exercise.

If you need help setting you exercise goals, take advantage of a personal training program. The personal trainers at Answer is Fitness are trained and experienced in helping clients make and meet fitness goals. Take advantage of our April Training Special and get started on an exercise plan today!

What is the April Training Special? ONE FREE MONTH of personal training! When you buy any of our individual 6 month training programs, we'll give you the value of ONE MONTH'S price off your personal training plan to discount the monthly price to the lowest ever!

Want more information? Contact Answer is Fitness today to start in on your fitness goals.
Comments (0)
|
Trackbacks (0)
|
Permalink
|
|